The Vision
Sue-Ham Entertainment's dynamic message is to Live, Love, Learn & Laugh in your own authentic way!
To serve with joy and conviction to all!
The Message
To "Live" a purposeful life, taking personal responsibility for your dreams, goals, and ambitions with conviction.
To "Love" authentically, with the knowledge that we are all God's children. To contribute your love, knowledge and wisdom to others and stand for them as they live their dreams.
To "Learn"… being committed to education of your own personal evolution to evolve into the highest and best self that God has blessed you to become!
T0 "Laugh" … to joyfully pursue your dreams with excitement and passion!
We are raising the Bar!
---
Here comes the movement.
The movement is to make "Salon Drama," the stage play, a reality by September 30, 2017. Salon Drama embodies the message to Live, Love, Learn, and Laugh! Specifically, we are raising funds to bring this stage play to DVD, so we can make the difference we were born to make.
We ask YOU to join and partner with us in the MOVEMENT!
The goal is to raise $26,000. By the grace of God it will be done.
Raising the funds will be accomplished in a most unique way through pledging.
The "pledging" will simply be the dollar amount you are committed to raising. We ask that you share your favorite Sue-Ham or Thug Motivator video with friends and family and ask their support for you to reach your "pledge."
With each and everyone of us standing together to reach our pledges…. We will reach our goal.
Be Courageous, Committed, and Clear!
Below is more info about the actual Movement!
Thanks so much for joining the movement,
Sulondia "Sue-Ham" Hammond

Sulondia "Sue-Ham" Hammond, that's me and I just happened to be, well rather I am blessed to be an author, playwright, and director. My body of work includes, but is not limited to The Sue-Ham TV Show, The Sue-Ham Radio Show, Flippin' Da Script stage play and I Am Who I Say I Am stage play.
I have also been seen on several social media networks with my viral beat boxing video which aired nationally on BET (Black Entertainment Television). I have also been featured on BravoTV hosting Queen Brooklyn's Health and Beauty Expo.
Just recently I was selected by renowned playwright, director, and producer, David E. Talbert (director of 1st Sunday and Baggage Claim), to join the cast for the film, "A Meyers Christmas," which is being released through Universal Pictures Nov 2016 and includes such talent as Danny Glover, Monique, Kimberly Elise, and many others! (see pics below)
My latest creation is my stage play, Salon Drama. Because of all the requests to commit this show to DVD, I am seeking your help to make it happen! Salon Drama will be played in schools, theaters, your homes, at seminars and more. Our message to inspire YOU to live your Dreams is a universal message and we intend to take it around the world. Salon Drama opened to rave reviews in Conway, SC on Sep 2015 and in Sumter, SC, on Nov 2015. (See reviews at the bottom of the page)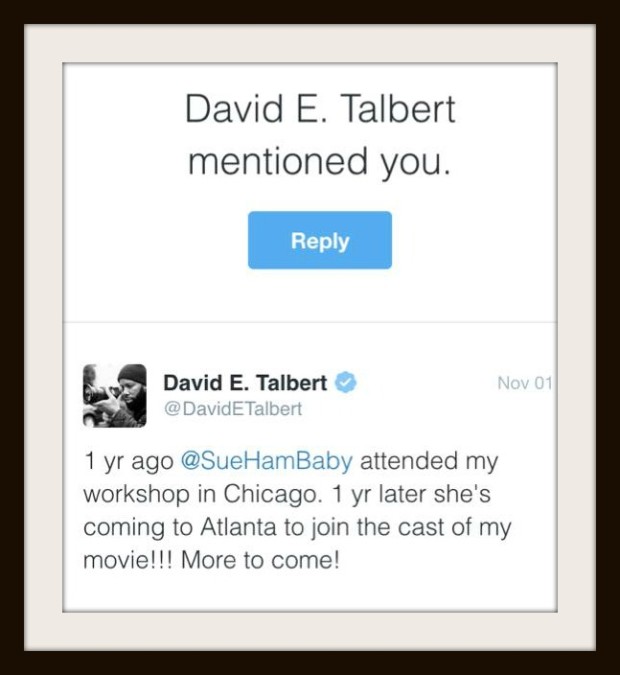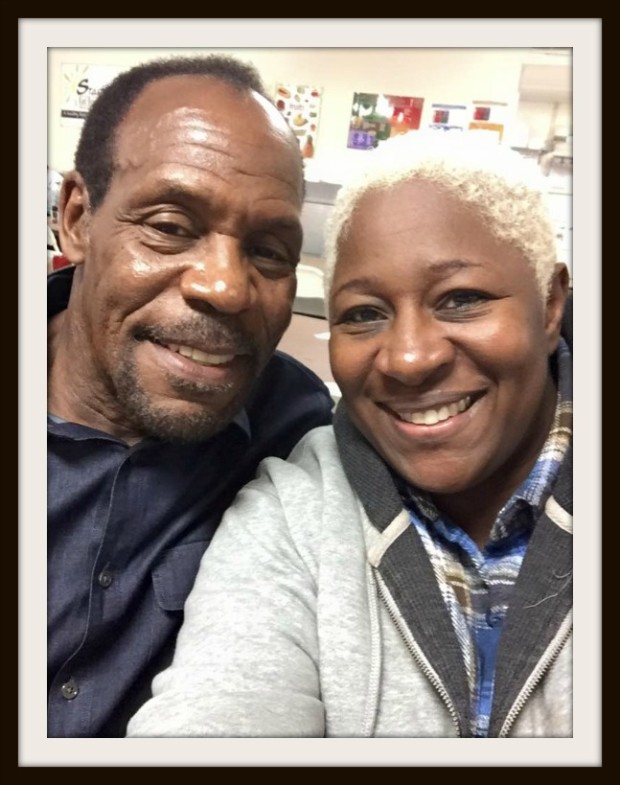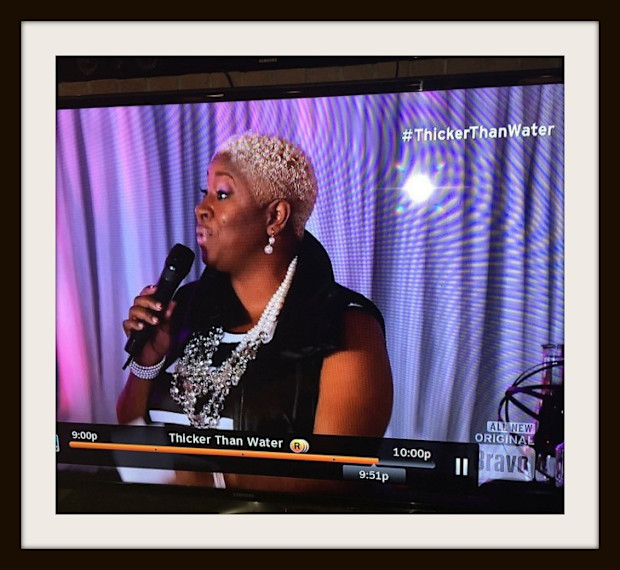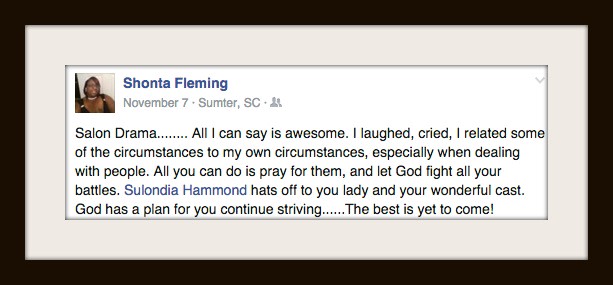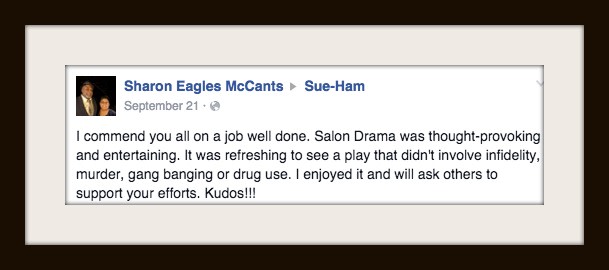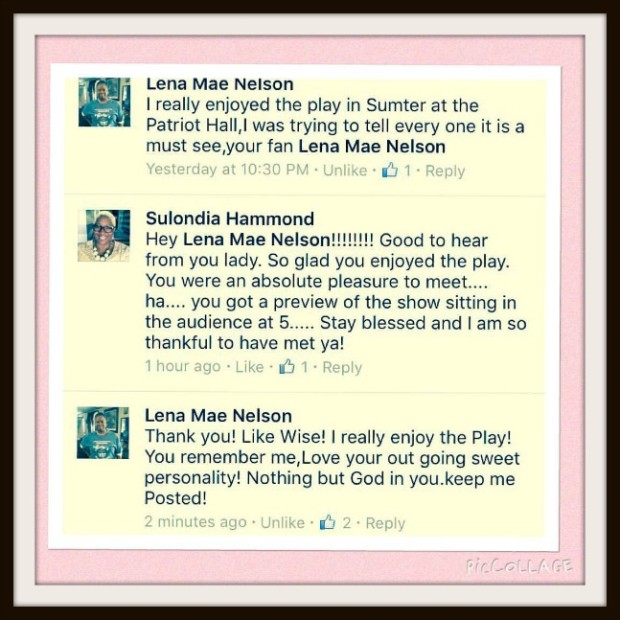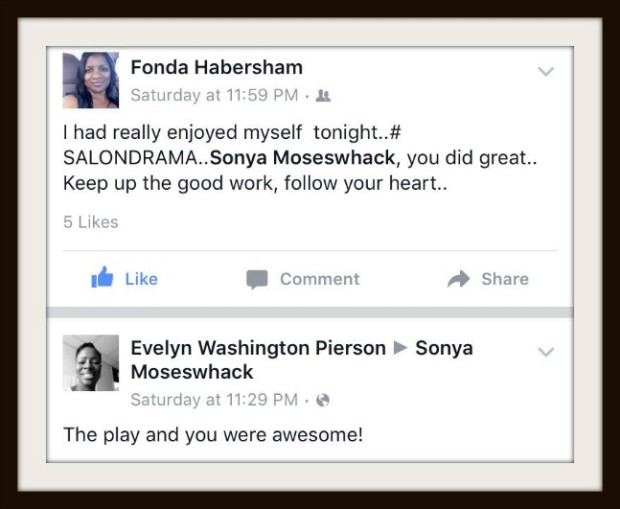 Want to audition, be a crew member, make up artist, musician, etc for this production?
If yes, then on your mobile device text the word SueHam to 77948 for updates and more info.
With Loads of Love,
Sulondia "Sue-Ham" Hammond